Description
Grace browingは、オーブン調理やその他料理に幅広く使える料理の材料です。水とキャラメルと塩と少量の安息香酸ナトリウムを防腐剤として加えれば、キャラメルの甘いクリスプがあなたの好みの料理に加わります。
---
ブラウンシチューチキン レシピ
材料
3ポンド(1.3〜1.4kg)のチキン、チキンは一口大に切って、皮を剥く。
チキン用調味料
塩:ティースプーン2杯
胡椒:ティースプーン1/2杯
グレースブラウニング:ティースプーン2杯
シャロット2茎(白い部分のみか、全部)をみじんぎり
玉ねぎ1玉をみじん切り
グレービーの調味料
クッキングオイル:1/4-1/2 カップ(チキンを焼くため)
玉ねぎ1玉をみじんぎり
赤、緑唐辛子:それぞれ1/4くらい タイム1茎または、
ティースプーン1杯の乾燥タイム
ティースプーン1杯のペッパーソース
テーブルスプーン1杯のトマトケチャップ
カップ2杯のお湯
ティースプーン1杯の塩(味付け調整用)
手順
1.チキンの味付け
塩、黒胡椒、ブラウニング、ニンニク、シャロットをチキンとよく絡ませ、一晩もしくは少なくとも1時間寝かす。
2. チキンに絡めた、シャロットやオニオンなどをチキンから取り除き、油をひいた高温でチキンを両サイド、焦げ目がつくまで2〜3分程焼く。
3. チキンがきつね色になったら、チキンと一緒に1/2杯のお湯を鍋に入れて2.3分かき混ぜる。
4.グレービー用の材料を加える:タイム、ホットペッパーソース、トマトケチャップとカップ1杯のお湯をフライパンに入れ入れて混ぜ合わせる。グレービーの味になったら必要に応じて塩で味を整える。約5分程煮る。
5. 好みに合わせて、さらに塩と黒胡椒を加えても良い。
30分ほどチキンが柔らかなるまで煮る。また、グレービーが味がこくなるまでにる。
6.切ったニンジン2〜3個、ポテト3〜4個を加えてもても良いと思います。ニンジンとポテトが出来上がるまで、煮詰めておきましょう。
ライスと野菜と一緒に盛り付けて..ついでにプランタノの揚げバナナも添えて召し上がって下さい?http://www.platanosjapon.com
---
---
A versatile ingredient for baking and cooking, Grace Browning combines water, caramel and salt, with a small amount of sodium benzoate as a preservative, to bring the sweet crispness of caramel to your favorite dishes. (4.8 oz.)
---
Ingredients
3lbs Chicken, cut in pieces and skin removed
Chicken Seasonings ingredients
2 tsp Salt
1/2 tsp Black pepper
2 tsp grace browning
3 Large cloves garlic, minced
2 stalk escallion (white part only or all ), chopped
1 large onion chopped

Gravy: ingredients

1/4-1/2 cup Cooking oil (for frying chicken)
1 Large onion, chopped
1/4 each, Red and Green bell pepper, chopped
1 Spring of thyme or 1 tsp dried
1 tsp Pepper sauce
1 Tbsp Tomato ketchup
2 cups Hot water
1 tsp salt (to taste)
---
Instructions
1. Season chicken with salt, black pepper, browning, garlic and scallion (green onion). Marinate the chicken overnight of at least one hour before frying.
2. Remove scallions, onions etc from chicken and, on high heat, fry the chicken in cooking oil for 2 to 3 minutes on each side, until browned.
3. After the chicken has turned brown, add a little 1/2 cup of hot water to the left over seasoning form the chicken and pour it in the pot.. stir for a couple minutes. 2-3
4. Add the gravy ingredients: Add thyme, hot pepper sauce, tomato ketchup and 1 cup of hot water to pan and stir; taste gravy and add 1 tsp of salt, if needed; let simmer for 5 minutes.
5. Add more salt and or black pepper if needed to suit your taste.
. Simmer chicken for 30 minutes or until it is tender and the gravy has thickened.
6. At this point you can cut up 2-3 carrots and or 3-4 medium potatoes to add more nutrition to the dish. Let simmer until the carots and potatoes are cooked.
Serve it up with steamed rice and vegetables or salad. ( Maybe even some friend plantains from?http://www.platanosjapon.com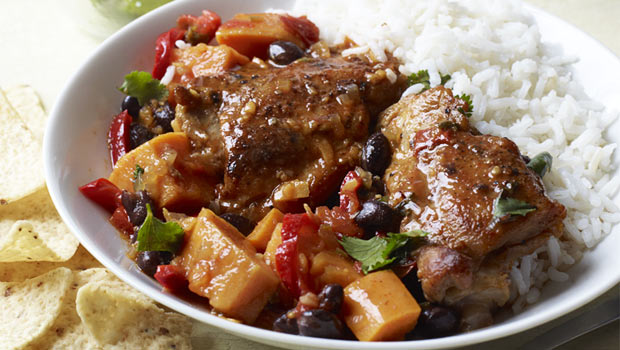 Use Grace browning to colour your Christmas? fruit cake.